Products
The EURON products are the choice of Nappy Warehouse, since not only is Euron the private label market leader in Europe due to product quality and excellence, but the company is committed to the preservation of the environment.
Euron products are changing from plastic backing to cloth breathable material, which is less irritating to the patient's skin and also makes the products more biodegradable.
In 2008 the Euron plant reduced its greenhouse gas emissions by 25% over the previous years.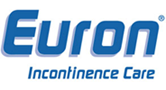 Our product list demonstrates the absorbency (in millilitres) of each item so that the customer can compare our product to others hence... pricing against absorbency and absorbency against price.  A less absorbent  product is cheaper than a highly absorbent product but it is not always cost effective to use the cheapest product because you will need to use more nappies. It is important to match the absorbency level with your level of incontinence.
Full product selection: click here